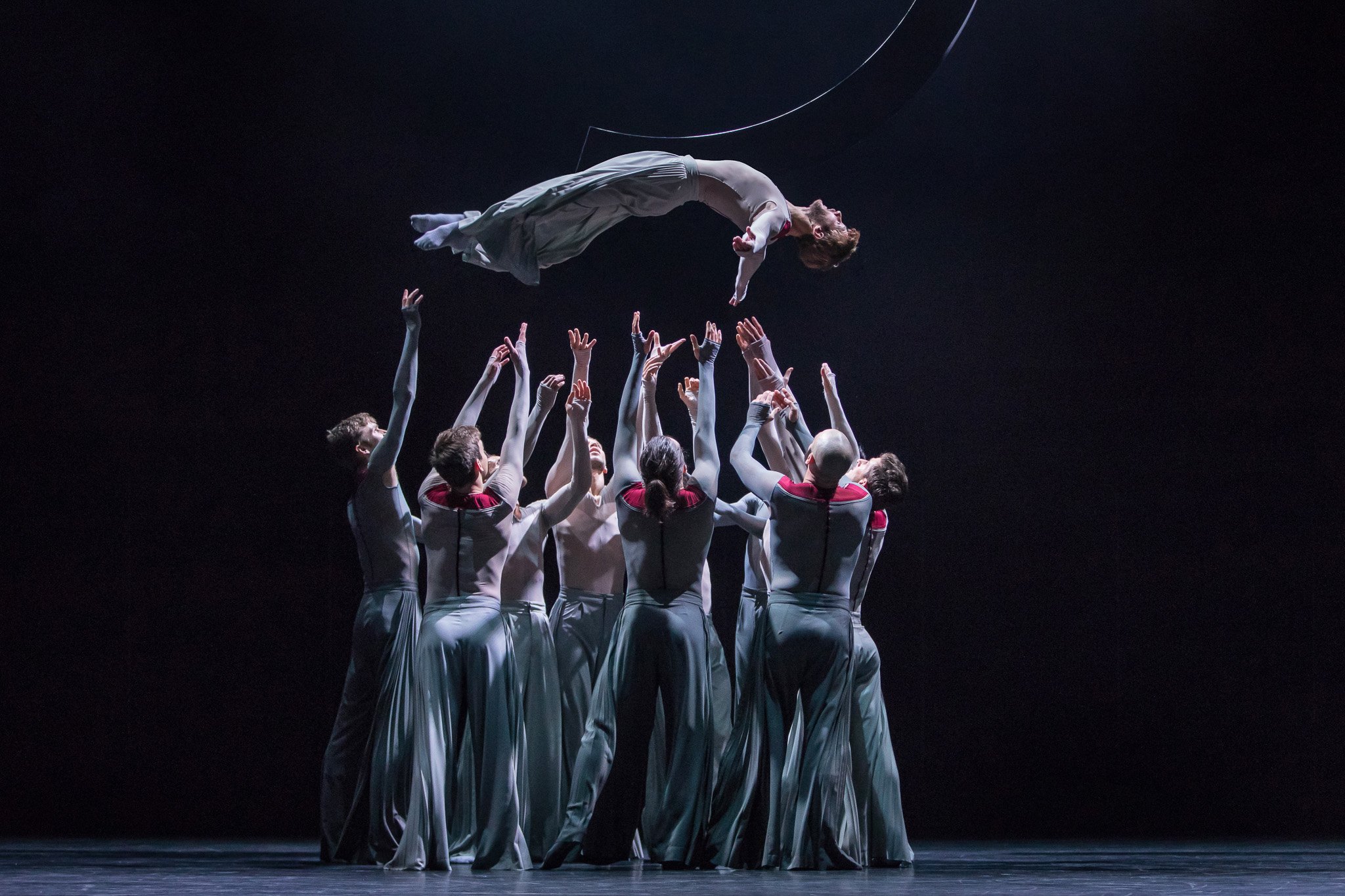 A dense season
Artistic creation is a fragile thing, but because it is always on the edge, it carries in itself a great deal of hope. When analysis and research outweigh the need for box office hits, when adventures take you off the beaten path, that is when discoveries and detours open up new genres, new times and new idioms that run parallel, first to their creators and then to their audiences. This is our conviction, at the Grand Théâtre, as we look once again to the future, as ever, for the dance season that opens before us.
Ballet
A dense season, for sure, where experienced artists rub shoulders with the upcoming generation. Sidi Larbi Cherkaoui, Andonis Foniadakis, Ioannis Mandafounis open the season and their younger colleague Jérémy Tran will close it: they will all be taking us to their world of dreams, feelings, hard work, virtuosity and at the end of the day, indubitable humanity. With two new dance premieres, this new dance season is the bearer of hope. Great hope, indeed, at the start of a new collaboration between the Geneva Ballet and the Grand Théâtre opera stage: in our new production of Jean-Philippe Rameau's Les Indes galantes, we will be welcoming our ballet company as a much-awaited and longed-for guest. A season where those who know the score share space with the eagerness and vulnerability of those who are taking their first steps. A season carried on the shoulders of the dancers of the Geneva Ballet, men and women of extraordinary talent and yet, humble enough to gladly risk baring themselves completely before us. A season supported by a guest performance of one of the greatest contemporary dance ensembles of our time: Anne Teresa de Keersmaeker and her dance company Rosas will grace us with their Six Brandenburg Concertos, a piece that is blowing away audiences all over the world. A season which echoes with the minimalist musical choices of our opera season and resounds with the immense genius of the cantor of Leipzig, none other than Johann Sebastian Bach.
A new dance season that makes this final statement: in an institution like Geneva's Grand Théâtre, burdened by nature with the richness of its heritage, it is also possible to dare to exercise the free will of creativity that is the future of dance. This is our hope; this is our confidence and our way forward.
Philippe Cohen
Director of the Ballet du Grand Théâtre de Genève
The Ballet of the Grand Théâtre de Genève
In 1962, the Grand Théâtre de Genève acquired a permanent ballet company, made up of 22 artists, offering two original choreographic creations per season. Collaborating with choreographers of international renown, under the management of Philippe Cohen, over the course of its performances, it has built a worldwide reputation for itself. Today, whilst the premieres are always held in Geneva, the Geneva Ballet frequently performs outside Switzerland (France, Italy, United States, Russia, Australia, China, Brazil, South Africa, etc.).
GTG
The Dancers
Ladies

Gentlemen

Yumi
Aizawa

Valentino
Bertolini

Céline
Allain

Adelson
Carlos

Ornella
Capece

Zachary
Clark

Angèle
Cartier

Andrei
Cozlac

Diana
Dias Duarte

Armando
Gonzalez Besa

Léa
Mercurol

Xavier
Juyon

Tiffany
Pacheco

Juan
Perez Cardona

Mohana
Rapin

Simone
Repele

Sara Shigenari

Sasha Riva

Lysandra
van Heesewijk

Geoffrey
Van Dyck

Madeline
Wong

Nahuel
Vega
The Company
Director of the Ballet
Philippe Cohen
Deputy Assistant
Vitorio Casarin
Administrative Coordinator
Emilie Schaffter
Maîtres de ballet
Grant Aris
Grégory Deltenre
Pianist
Serafima Demianova
BALLET TECHNIQUE
Technical director of the ballet
Philippe Duvauchelle
Lighting manager
Arnaud Viala
Régisseur plateau
Mansour Walter
Medical service
Dr Victoria Duthon
(Hirslanden Clinique La Colline)
Physiotherapist
Thomas Meister
Tour
On tour
21, 22 JAN 2020
Echirolles, France
Wahada, choreography Abou Lagraa
25 JAN 2020
Bastia, France
Carmina Burana, choreography Claude Brumachon
28 JAN 2020
Saint-Germain-en-Laye, France
Carmina Burana, choreography Claude Brumachon
30 JAN 2020
Mons, Belgique
Wahada, choreography Abou Lagraa
1st FEB 2020
Neuilly-sur-Seine, France
Carmina Burana, choreography Claude Brumachon
04 FEB 2020
Fulda, Allemagne
Fallen, choreography Andrew Skeels
Glory, choreography Andonis Foniadakis
07 FEB 2020
Montrouge, France
Carmina Burana, choreography Claude Brumachon
13 FEB 2020
Sassari, Italie
Carmina Burana, chorégraphie Claude Brumachon
15, 16 FEB 2020
Cagliari, Italie
Carmina Burana, choreography Claude Brumachon
20, 21 FEB 2020
Ludwigsburg, Allemagne
Tristan & Isolde, choreography Joëlle Bouvier
26, 27, 28 février 2020
Nîmes, France
Wahada, choreography Abou Lagraa
03 MAR 2020
Le Perreux, France
Carmina Burana, choreography Claude Brumachon
19, 20 MAR 2020 – Canceled
La Rochelle, France
Fall, choreography Sidi Larbi Cherkaoui
Fallen, choreography Andrew Skeels
25 MAR 2020 – Canceled
Modena, Italie
Tristan & Isolde, choreography Joëlle Bouvier
27 MAR 2020 – Canceled
Pavia, Italie
Wahada, choreography Abou Lagraa
29 APR 2020 – Canceled
Gijon, Espagne
Roméo & Juliette, choreography Joëlle Bouvier
01, 02 MAY 2020 – Canceled
Bilbao, Espagne
Roméo & Juliette, choreography Joëlle Bouvier
24-28 JUNE 2020 – Canceled
Becket, USA
Fall, choreography Sidi Larbi Cherkaoui
Glory, choreography Andonis Foniadakis
Indosuez Wealth Management is partner of the Ballet du Grand Théâtre de Genève

Stay connected with the GTG