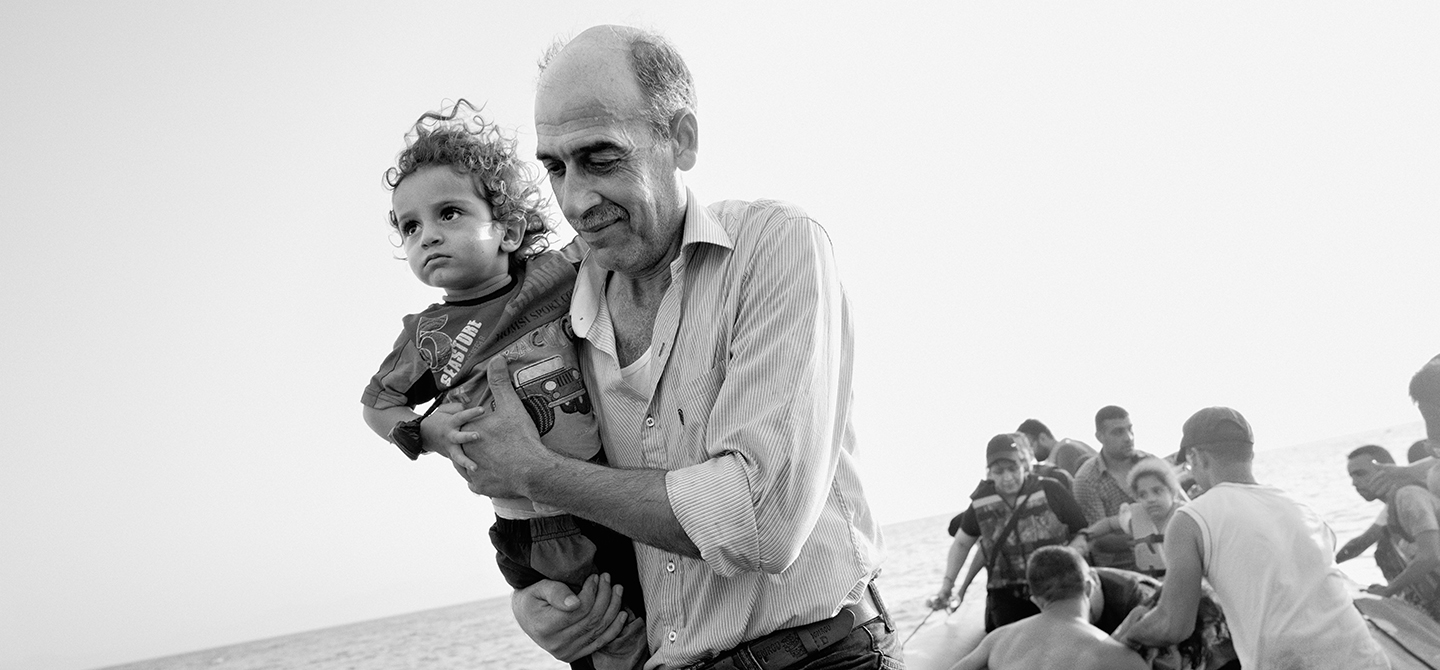 Preview on stage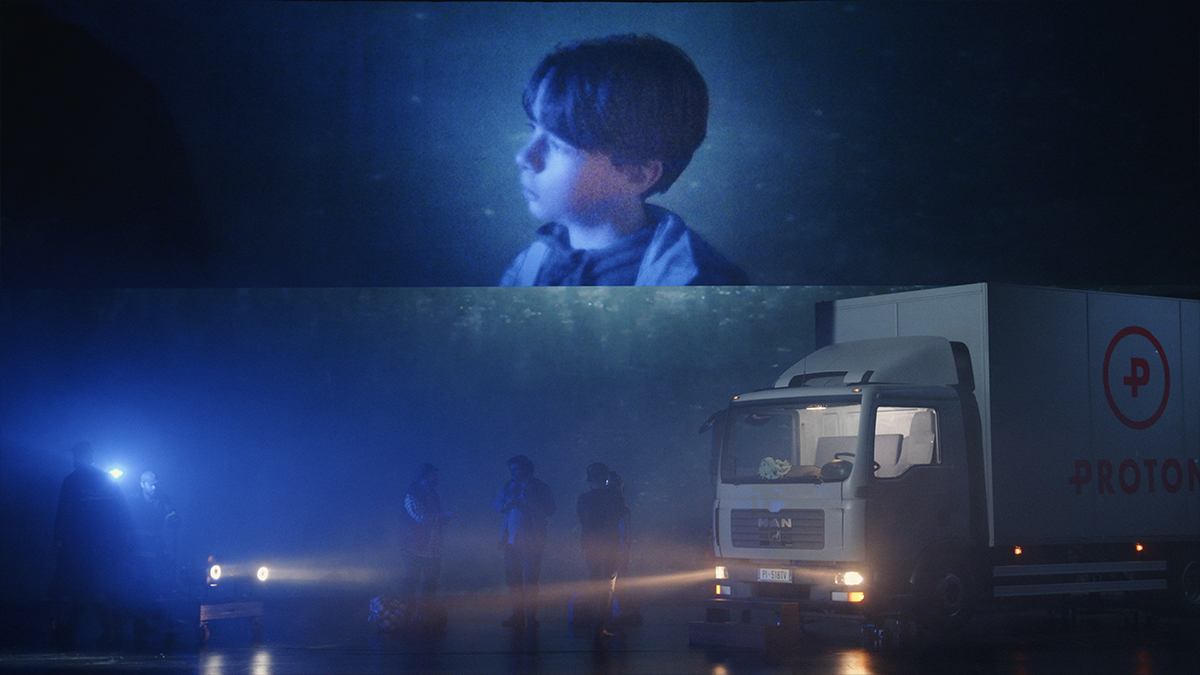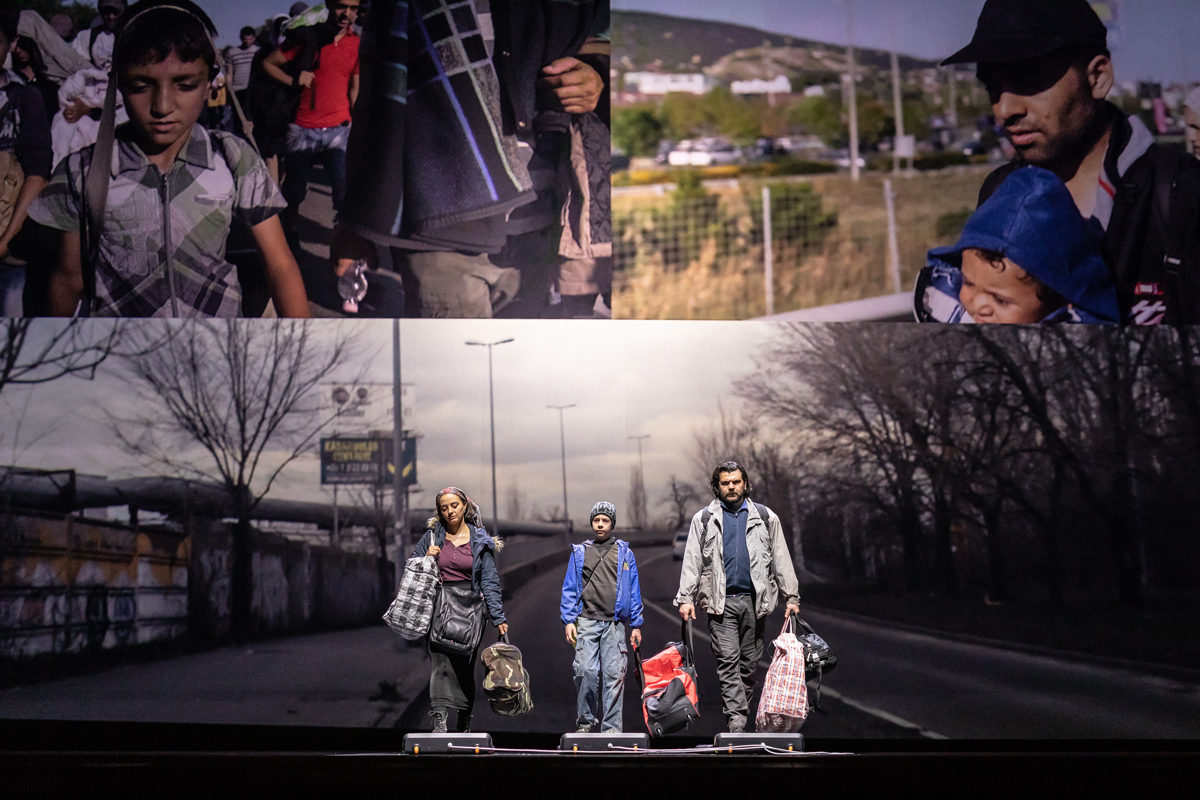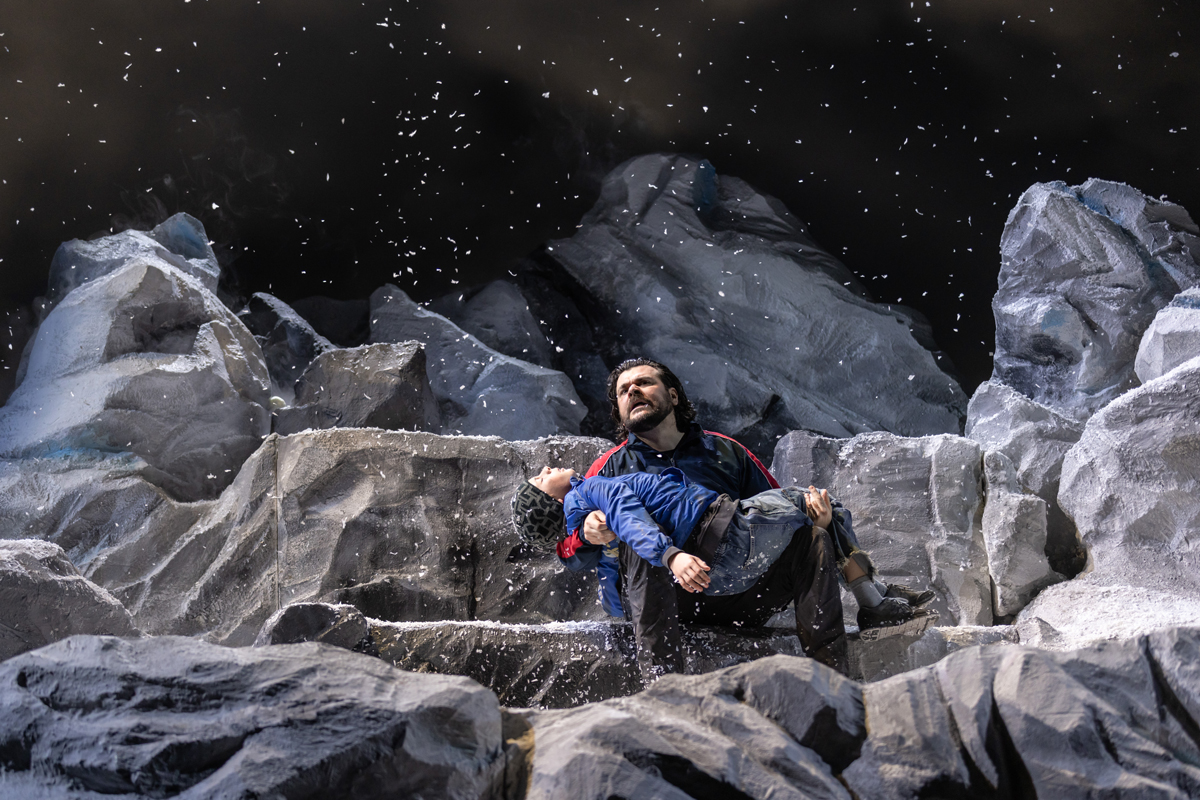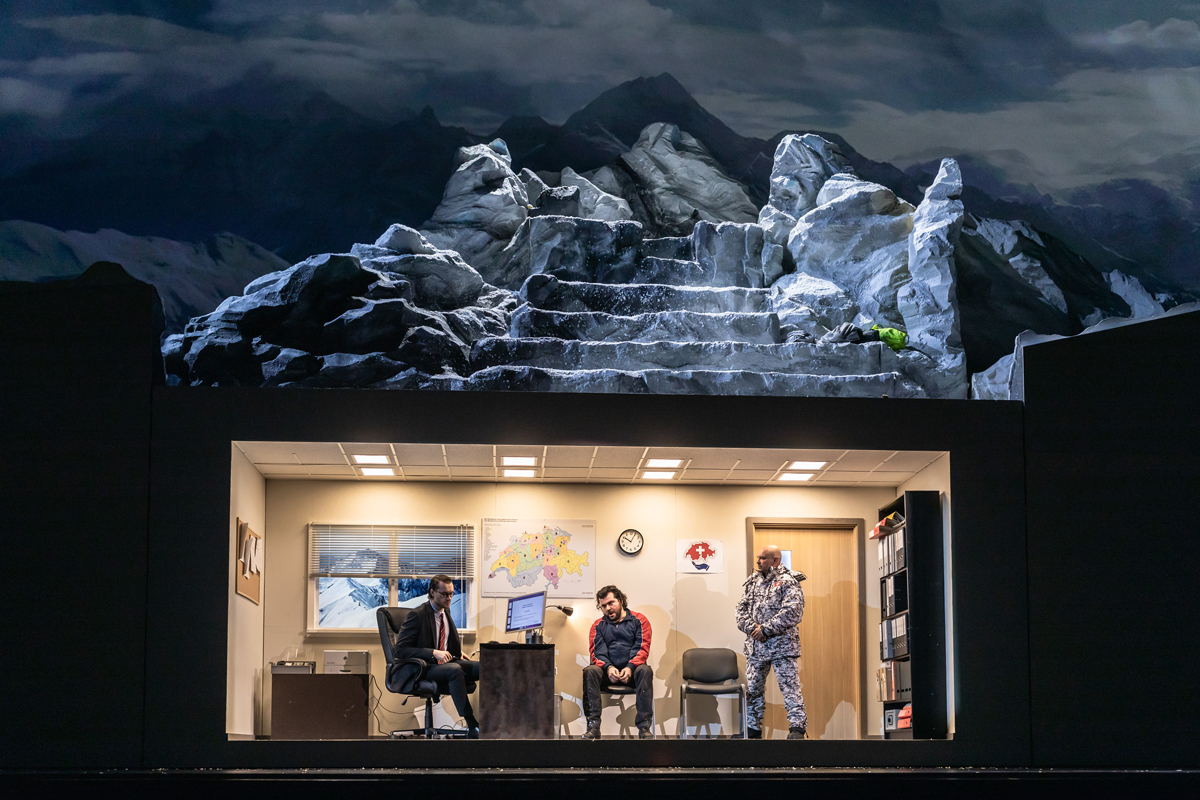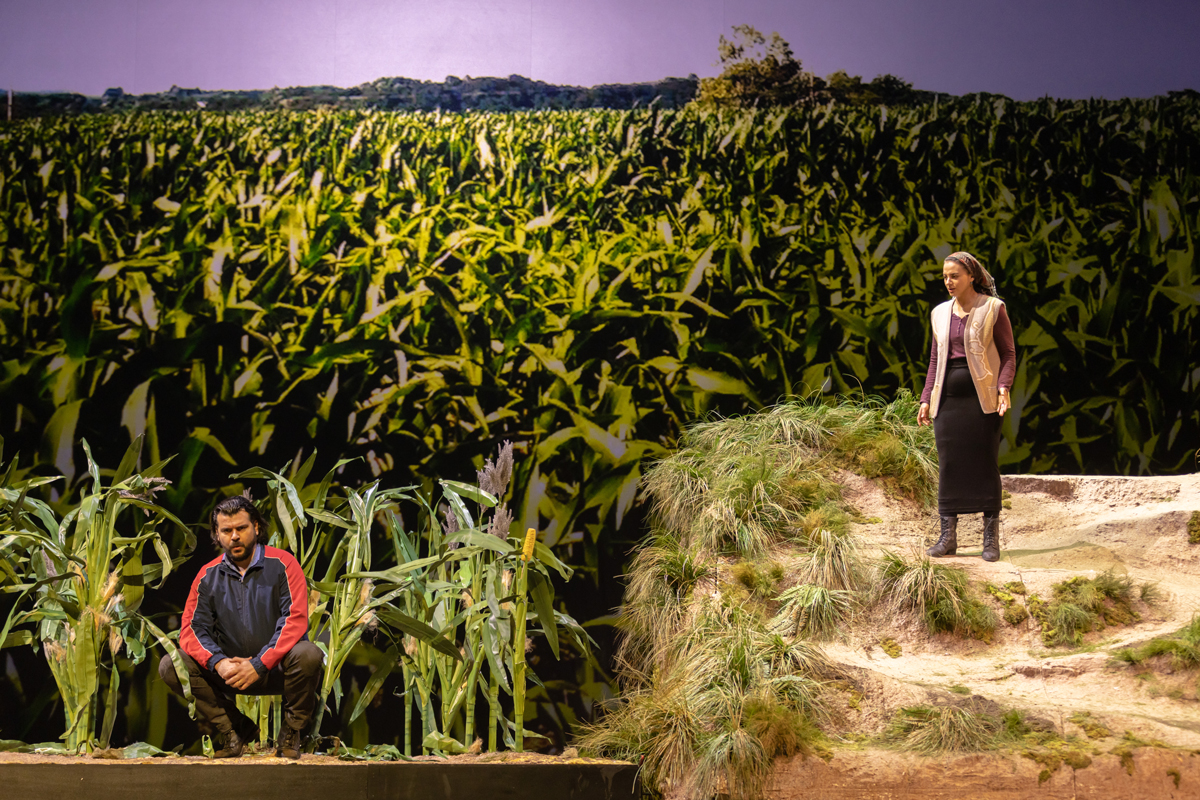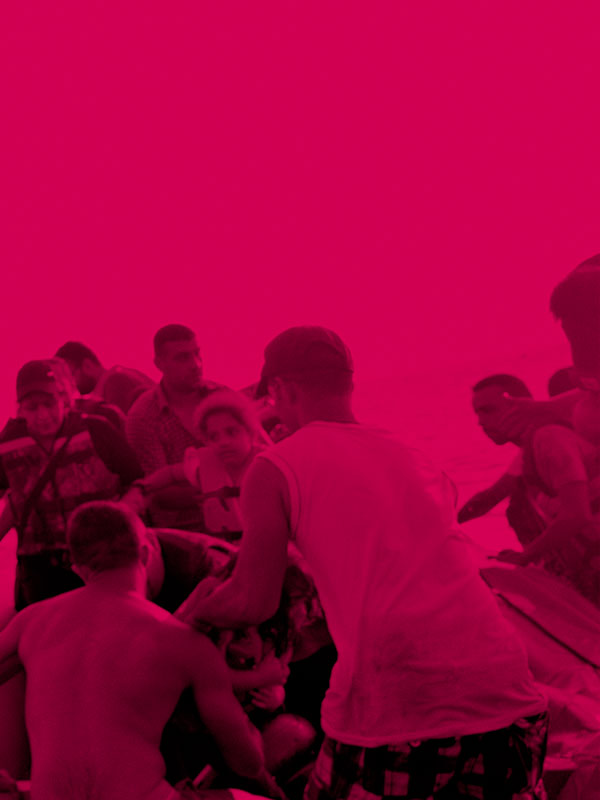 A giant made of water fell on the mountains, And the valley rolled with dogs and lilies. The body, with the purple shadow of my hands, Was, dead on the shore, a frozen archangel.
---
Opera by Christian Jost
Libretto by Káta Weber after the movie Reise der Hoffnung by Xavier Koller
World premiere
28, 30, 31 March and 4 April 2023 – 8pm
2 April 2023 – 3pm
Duration: approx. 1h30 without intermission
Sung in french with french and english subtitles
Family friendly

CAST
Musical Director Gabriel Feltz
Stage Director Kornél Mundruczó
Scenography and costumes Monika Pormale
Lighting Designer Felice Ross
Dramaturgy Káta Weber
Video design collaborator Rūdolfs Baltiņš
Haydar, the father Kartal Karagedik
Meryem, the mother Rihab Chaieb
Mehmed Ali, the son Ulysse Liechti (28/3, 2/4, 4/4) et George Birkbeck (30 & 31/3)
Fatma (spoken role) Guilan Farmanfarmaian
Güney (spoken role) Areg Sultanyan
Matteo, a trucker Ivan Thirion
Haci Baba, a Mafioso Denzil Delaere
A doctor Julieth Lozano
A farmer Omar Mancini
A policeman William Meinert
Orchestre de la Suisse Romande
Sponsored by
ALINE FORIEL-DESTEZET
This new opera, based on the film of the same name by Swiss director Xavier Koller, tells the story of a Kurdish family that abandons kind and country to try to get into paradise, i.e., Switzerland. Like a mirage, this paradise fades away with each step forward and ends up disappearing completely in a snowstorm. Behind the characters' individual stories, is history in subtext: the history of worlds divided, of bureaucracy, of exploitation of others. Once the family is severed from its roots, it spirals downwards into a brutal world where human and natural powers end up destroying their every hope. More than 30 years ago, we were watching Journey to Hope beat the frontrunner Cyrano de Bergerac for the Academy Award for Best Foreign Language Film — to date, the only Swiss feature film to win this distinction — and the topic hasn't lost any of its relevance. Migrants are all over the media but mostly on the seas and in asylum seekers' centers. More than 30 years ago, a family's future was sealed by the mountains. Today, people meet their destiny at sea. But for those of us who do not have to make this kind of journey, the story is little more than a parable. Who better to stage this new opera than Kornél Mundruczó, already seen at the opera in Geneva with his productions of The Makropoulos Case (2020) and Sleepless (2022)? The Hungarian film and theatre director shows his socially and dramatically innovative projects all over the stages ofEurope and reminds us that this is not just a story but a daily reality for all those who are forced to leave their homeland, for all those who are waiting to be someone again, for those who have no land under their feet, no country in their dreams and only paradise in their eyes. The music of this journey into despair, the first of our productions to be cancelled by the 2020 COVID lockdown, is the work of German composer Christian Jost, known for his operatic adaptation of Hamlet in Berlin or The Red Lantern in Zurich. His distinctive orchestral writing has the epic proportions of film music and is full of powerful rhythms and great emotions, almost defining a new genre somewhere between opera and symphony. Conductor Gabriel Feltz, a specialist of the contemporary repertoire, joins a bespoke cast, featuring Turkish baritone Kartal Karagedik and Tunisian-Canadian mezzo-soprano Rihab Chaieb, in the roles of the father and mother. Who knows what lost paradise they might discover together?
Introduction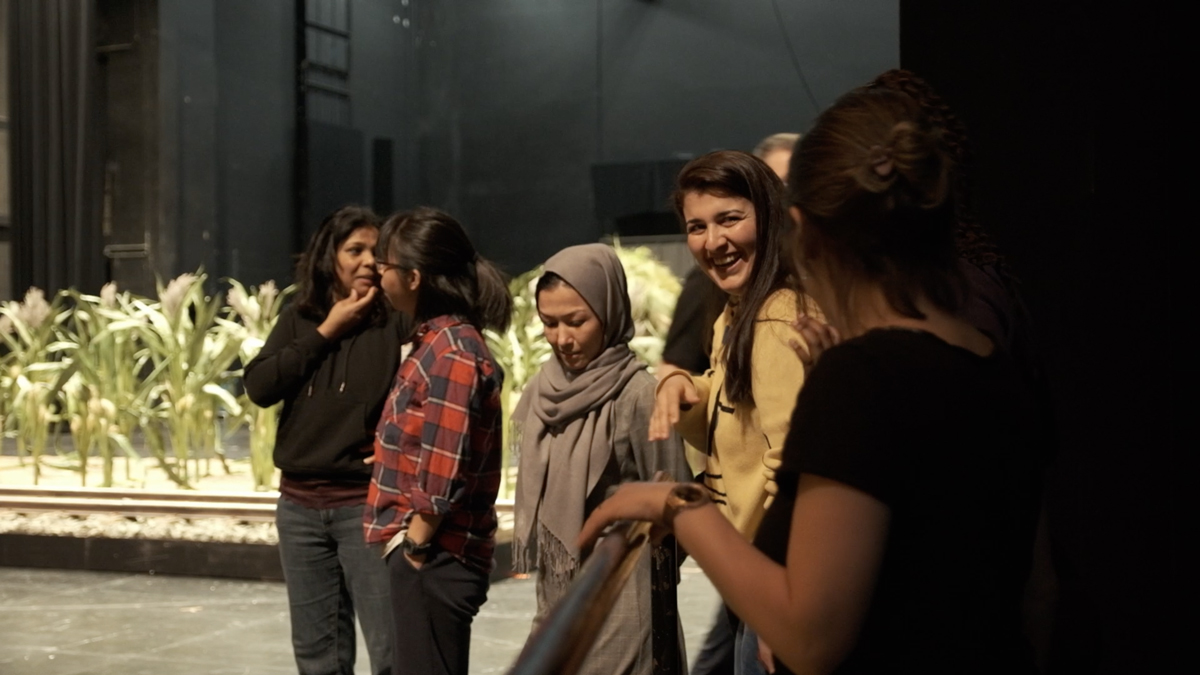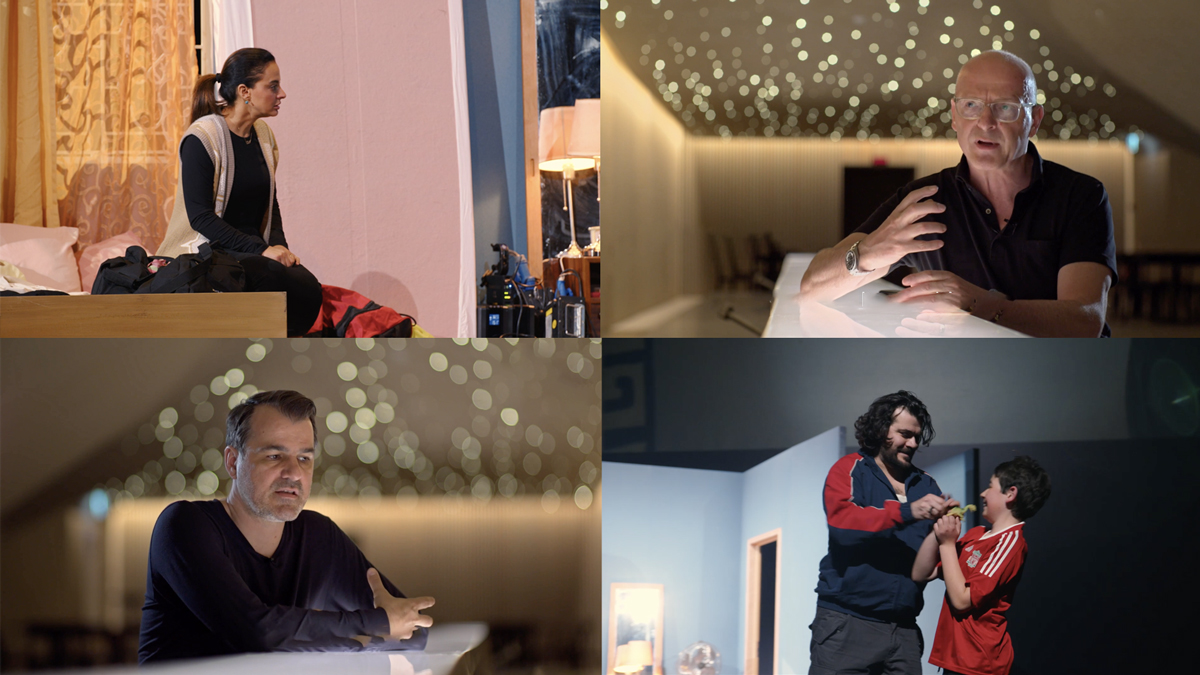 Plage
Voyage at La Plage
Check out all the various events connected with the production.
Cultures & Migrations project
+
–
Around the creation of the opera Voyage vers l'espoir, the Grand Théâtre, L'Orchestre de Chambre de Genève and Yojoa are joining forces around "Cultures and Migrations" projects. The HEM, La Comédie, the Alhambra and the Victoria Hall are also joining the adventure, from mid-March to the end of June.

> more infos
Intropéra
45 minutes before the performance
+
–
45 minutes before the bells call you into the house, it's time to refresh your memory and go back to the beginnings of the opera: we offer a brief introduction to remind you what the work is all about and what kind of magical, apocalyptic, critical or hyper-realistic worlds the people behind the production have in store for you. Lickety-split, there's just enough time to grab some bubbly before you take your seats under the star-studded ceiling of a thousand and one operas!

45 minutes before each performance
Free admittance with performance tickets
Foyer of the GTG
Public Workshop
Saturday, March 18 at 11AM
+
–
Visual workshop about Journey of Hope

On the occasion of the premiere of Christian Jost's opera Journey of Hope, based on Xavier Koller's film, the Grand Théâtre de Genève invites you to discover the links between these two artistic media.

What are the tricks to adapt these images from cinema to opera, and vice versa? You will find out by attending a workshop given by director Sahar Suliman.

Discover these image creation techniques and let your imagination run wild as you take your first steps as a director and producer!

Saturday, March 18 2023
From 11AM to 12:30PM
From 12 years old
Entry CHF 15.– / CHF 10.- youth rate
Foyer of the Grand Théâtre de Genève
Newroz at GTG
Saturday, March 18 at 1:30PM
+
–
The Kurdish, Afghan and Iranian communities invite you to celebrate Newroz, a celebration of renewal, in the foyer of the Grand Théâtre. Amongst culinary specialities and a traditional concert, you can attend a Sufi dance workshop or a rhythmic workshop in 7/8, or even just let yourself be explained what Newroz is.

> About the programme

Saturday 18 March 2023
From 1:30PM to 6PM
Free admission, workshop on site
At the Grand Théâtre de Genève
Babylon Orchestra
Saturday, March 18 at 8PM
+
–
After an entire afternoon of inter-community celebrations in the foyers of the Grand Théâtre, we move to the Alhambra to welcome Babylon Orchestra. This orchestra, founded in 2016 around the encounter between East and West, puts music at the centre of cultural dialogue and integration. For Newroz, the day of renewal celebrated by Kurds, Afghans and Iranians, the orchestra invites the Iranian-born singer Michal Elia Kamal to join them.

Saturday 18 March, 2023
8:30PM
Door opening at 7:30PM
CHF 25.- / 15.-
At the Alhambra
Rue de la Rôtisserie 10, 1204 Geneva




Éclairage
Wednesday, March 22 at 6:30PM
+
–
VOYAGE VERS L'ESPOIR : La parole des réfugiés
Une conférence présentée par Géraldine Cloux

Voyage vers l'Espoir nous emmène dans un périple de la Turquie aux portes de la Suisse aux côtés de Haydar, sa femme Meryem et leur jeune fils Mehmet Ali.
Comment et pourquoi cette famille se lance-t-elle sur une route aussi dangereuse ?
L'opéra est tiré d'un film – fait très inhabituel ! – réalisé par le réalisateur suisse Xavier Koller en 1990. Ce sera donc l'occasion de revenir sur le contexte, suisse et international, à l'origine de ce drame et de chercher des pistes pour mieux comprendre l'approche musicale de Christian Jost.

Wednesday, March 22, 2023
At 6:30PM
At the Théâtre de l'Espérance
> access

more infos

Apéropéra
Thursday, March 23 at 6:30PM
+
–
About Voyage vers l'Espoir

Let's open up our soundscapes through these pages of chamber music by Christian Jost, the composer behind our creation of Journey of Hope. Inspired by poems by Rainer Maria Rilke, these two melodies for soprano, alto violin and soprano, TagTraum and Landschaft, add to the repertoire of the inner journey so dear to the Germanic lied. Soprano Julieth Lozano, a member of the young ensemble, and our pianist Jean-Paul Pruna will complete the journey with a few lieder by Richard Strauss on texts by the same poet, while violist Marie-Barbara Berlaud will take advantage of the opportunity to make a solo foray into the repertoire of Benjamin Britten. From the 20th to the 21st century, there is only one step to take. Let yourself be carried away by these new harmonies!

Thursday, March 23, 2023
At 6:30PM
CHF 25.–
First drink included (except cocktails and champagne)
In the foyer of the GTG
Podium
Thursday, March 30
+
–
After the performance on 30 March 2023, the audience is invited to attend a discussion on the GTG stage. Robert Mardini, Director of the ICRC, Éric Mégevand, President of the Geneva Red Cross, Florence Anselmo, Director of the Research Centre, and Jean-Philippe Kalonji, Geneva-based artist and cartoonist, will speak on the subject of "Migration and Conflict". The discussion will be moderated by journalist and presenter Alexis Favre.

Thursday, March 30, 2023
After the performance
GTG main stage
En coulisse
Friday, March 31
+
–
Haven't you ever wondered what it's like on the other side, when the curtain falls on a performance? How does all the technical machinery work? What do the stagehands have to do to get things back into working order? Or maybe just bump into one of the stars of the show?

So let us raise the curtain on all this for you. With every production, we give our patrons an opportunity to come backstage with us, raise their eyes to the flies and take a good look at what's behind the sets. It may be dark in the wings but there's a whole lot going on there! And because it's a really busy place, we can't really do this more than once per performance run. You will need to book your visit beforehand, so don't delay!

A member of the theatre staff who can answer all your questions and show you some of the very impressive features of our opera house takes you backstage for free.

After the March 31st performance, a member of the theatre staff who can answer all your questions and show you some of the very impressive features of our opera house takes you backstage for free.

The "En coulisse" tour lasts about 20 minutes, starts 15 minutes after the performance, is free of charge on prior reservation with our box office service by email [email protected].
22-23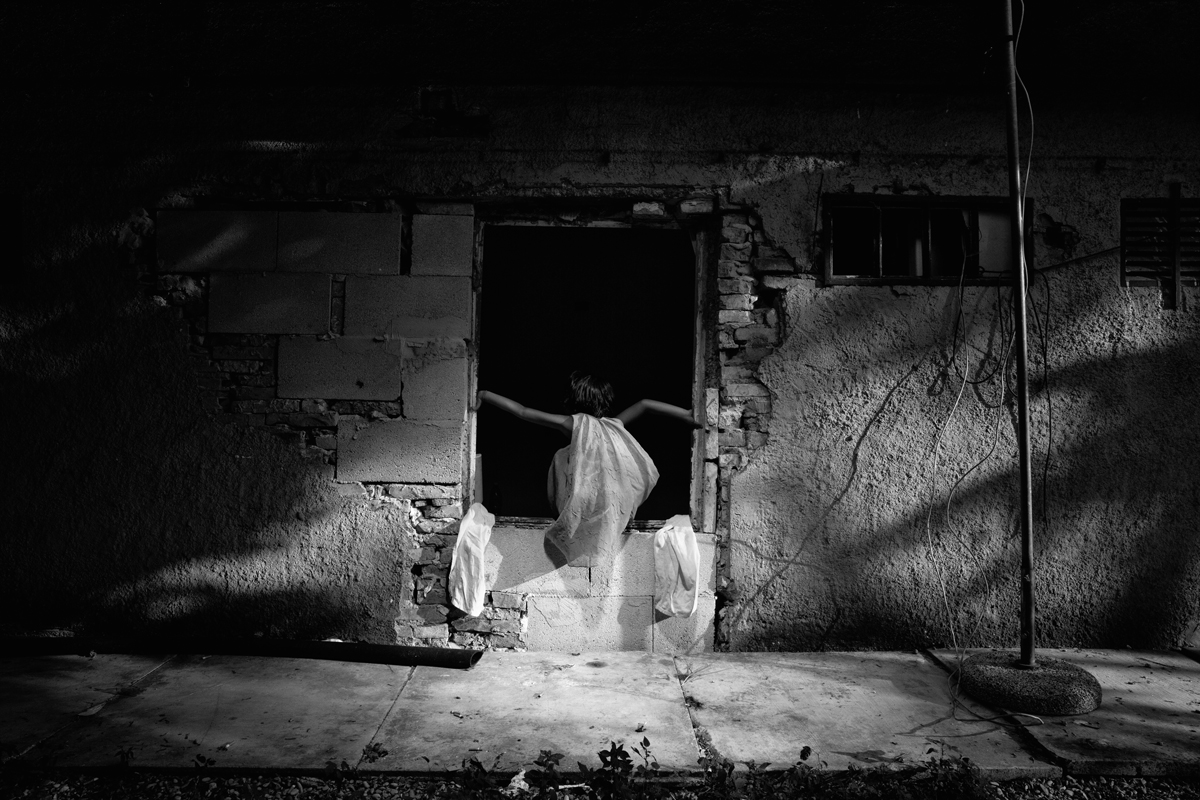 Programme
Opera, ballet, La Plage, … Find the complete programme of the new season.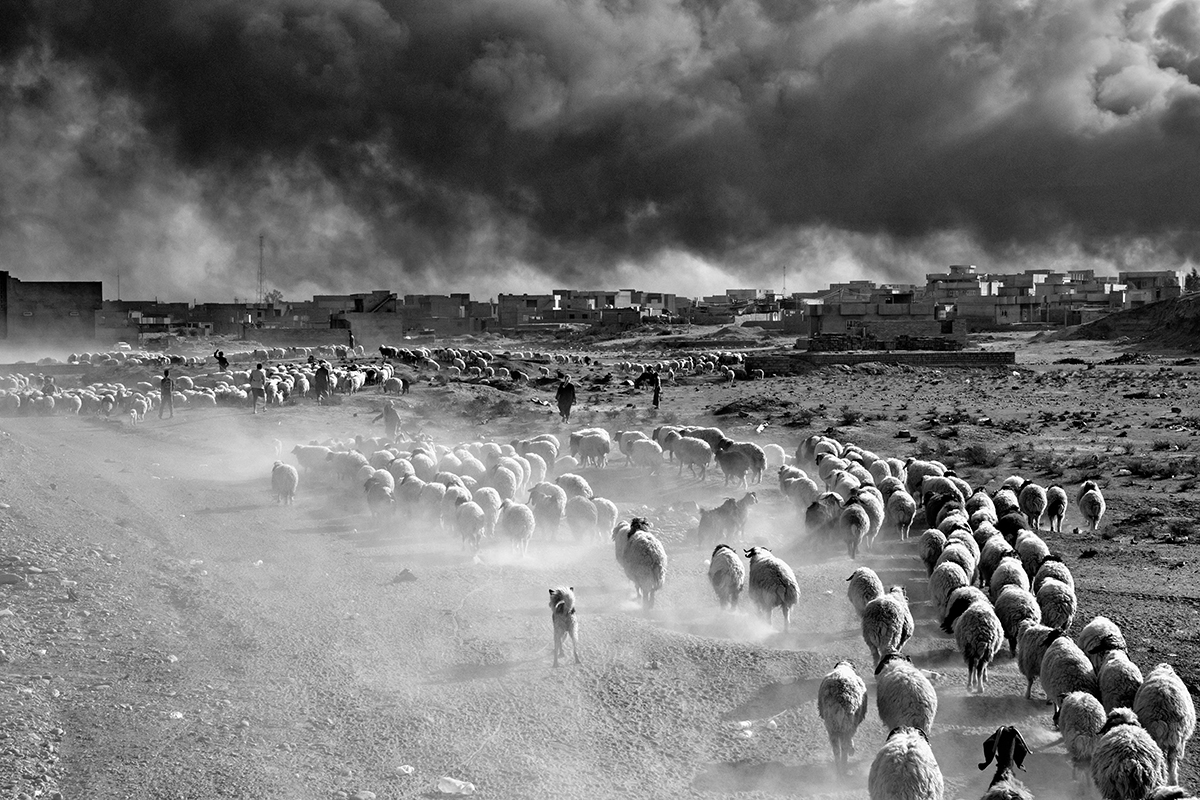 Migrating Worlds
Introduction, artist interviews, explanations… everything you need to know and understand about the new GTG programme.
Season ticket
Treat yourself to the emotion of a season and get guaranteed the best seats, at the best price, in all categories!
Find out about our 2022-2023 season tickets offers.
Stay connected with the GTG
Photo credits
Des réfugiés débarquent sur l'île grecque de Kos. Grèce, 2015
© Paolo Pellegrin
Voyage vers l'Espoir © GTG / Gregory Batardon