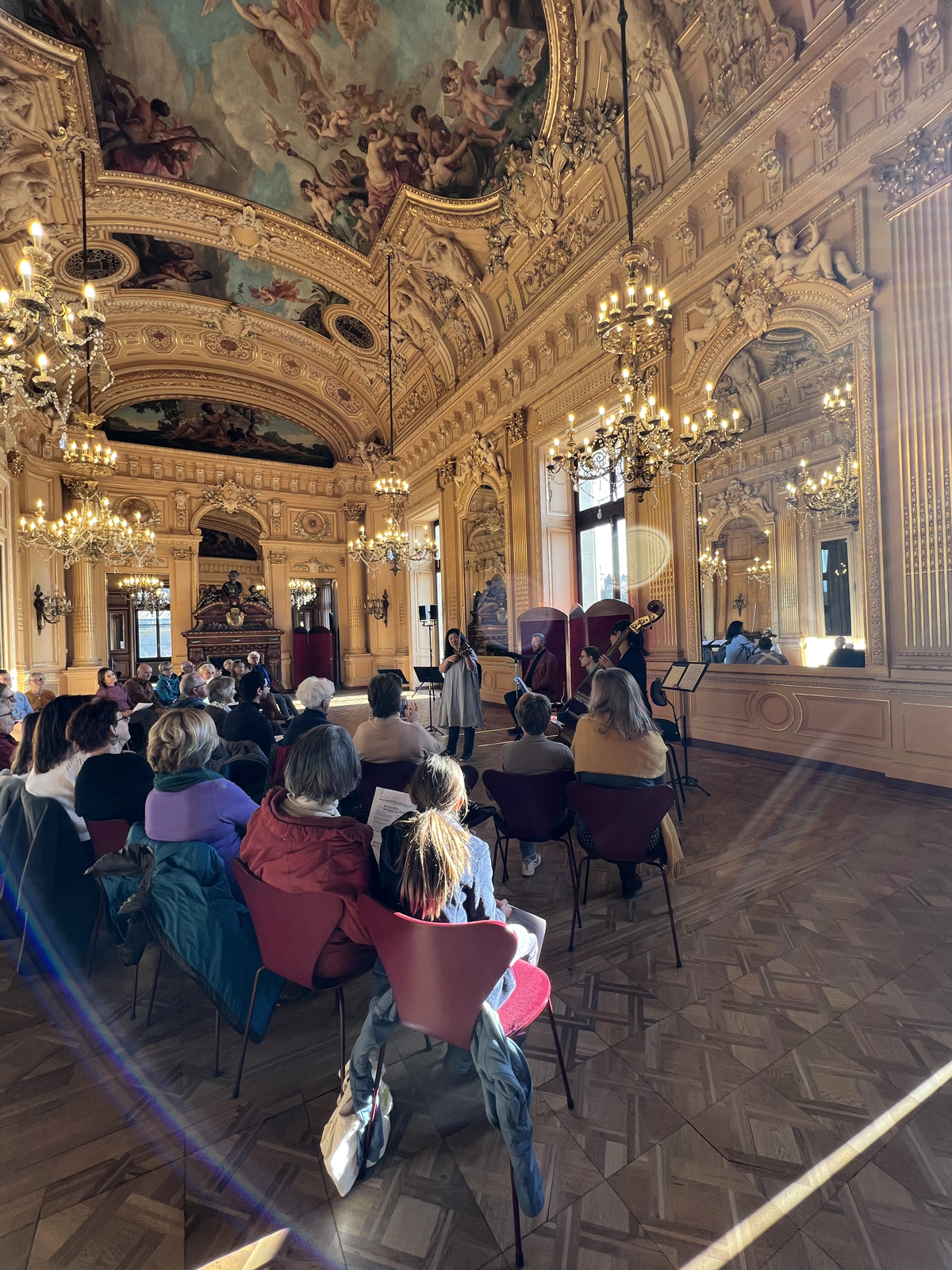 Let's try a different approach to opera and ballet…
With every Grand Théâtre production this season, there will be a Saturday morning of creative workshops related to the upcoming opera or ballet. Song, dance, drama, text, visual arts, it's all there waiting to surprise you and help you express yourself: voice, stage, theatre and image professionals will guide you through the many aspects of opera, the art that has everything!
Katia Kabanova 8.10.2022
Mondes flottants 5.11.2022
Maria Stuarda 19.11.2022
Parsifal 21.1.2023
Le Retour d'Ulysse 18.2.2023
Voyage vers l'Espoir 18.3.2023
Nabucco 3.6.2023
Saturdays At 11AM
Entry CHF 15.–
CHF 10.– (up to 12 years old)
Various meeting points
#1
The Storm: about Kát'a Kabanová by Janaček / Theater and music workshop
By Tamara Fischer and Mariama Sylla
Kát'a Kabanová is suffocating in the closed environment of her small provincial town in Russia, squeezed between her falot husband, Tichon, and her authoritarian and contemptuous mother-in-law, Kabanicha. How can she resist the attention of the young Boris during her husband's absence? Can Kát'a find happiness or will frustration and despair lead her to tragedy?
Composer Leoš Janaček was a great lover of literature and theater. The libretto of his opera Kát'a Kabanová was taken from the play The Storm by Alexander Ostrovsky. In an acting workshop that will also feature Janaček's musical score, join us in discovering the characters and the fable of Kát'a Kabanová.
Saturday, October 8, 2022 at 11am
From 12 years old
Duration 1h30
At the GTG
In collaboration with the Fête du Théâtre
#2
About Floating Worlds
Come learn about the choreographic languages of Damien Jalet and Sidi Larbi Cherkaoui choreographers of Floating Worlds in a contemporary dance workshop led by Fernanda Barbosa, teacher and former GTG Ballet dancer. No requirements to participate, just comfortable clothes and a good pair of socks! The workshop is open to all, including children 8 years old and up accompanied by an adult who is also participating.
Saturday, November 5, 2022
At 11AM
Entry CHF 15.–
CHF 10.– (up to 12 years old)
At the GTG's workshops at Sainte-Clotilde
Access via rue Jean-Louis-Hugon 8
1205 Genève
> access
#3
About Maria Stuarda
Join us for a bel canto introduction workshop related to the opera Maria Stuarda. Ornamentation, nuances, vocalises… with the help of musicologist Marie Favre, and accompanied by the soprano Nuada Le Drève, these terms will no longer be secrets to you. Discover this vocal technique and take your first steps as a singer of the Italian romantic repertoire. From 12 years old.
Saturday, November 19, 2022
At 11AM
From 12 years old
Entry CHF 15.–
At the Grand Théâtre de Genève
#4
Singing and orchestra introduction workshop
For the first time, the Grand Théâtre and the Orchestre de Suisse Romande join their efforts for a special public workshop on Parsifal. Dive into Wagner's universe with the bass Markus Hollop and 4 musicians from the OSR.
Through various excerpts, you will explore the specifics of this great composer's writing, the lyrical voice and the orchestral parts of Parsifal. At the end of the workshop, it will be your turn to play and you will even be able to try out some of the orchestra's instruments!
Saturday, January 21 2023
At 11AM
From 12 years old
Entry CHF 15.–
A the Grand Foyer of the Grand Théâtre de Genève
#5
Baroque quiz
Public workshop about Il ritorno d'Ulisse in patria by Claudio Monteverdi
Led by Jonas Descotte, director of the baroque ensemble Les Argonautes, a soprano and a lute player.
During this public workshop, follow Jonas Descotte as he takes you on a musical journey through Europe in the time of Monteverdi. During this question and answer game, you will discover the composer of Il ritorno d'Ulisse in patria, his contemporaries, the instruments and the repertoire of his time, accompanied by a soprano and a lute player.
Saturday, February 18 2023
From 11AM to 12:30PM
From 12 years old
Entry CHF 15.–
A the Grand Foyer of the Grand Théâtre de Genève
#6
Visual workshop about Journey of Hope
On the occasion of the premiere of Christian Jost's opera Journey of Hope, based on Xavier Koller's film, the Grand Théâtre de Genève invites you to discover the links between these two artistic media.
What are the tricks to adapt these images from cinema to opera, and vice versa? You will find out by attending a workshop given by director Sahar Suliman.
Discover these image creation techniques and let your imagination run wild as you take your first steps as a director and producer!
Saturday, March 18 2023
From 11AM to 12:30PM
From 12 years old
Entry CHF 15.– / CHF 10.- youth rate
Foyer of the Grand Théâtre de Genève
Stay connected with the GTG