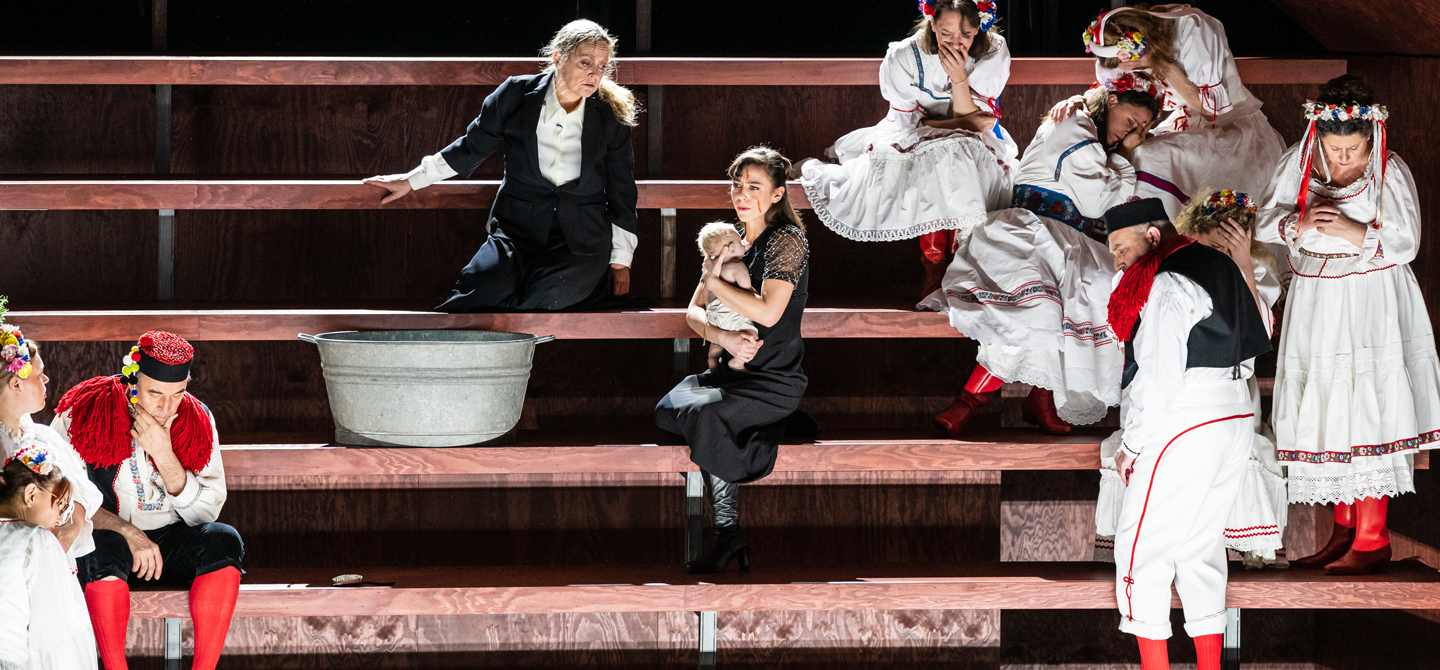 Hurry up! One of the best production of the year.
Preview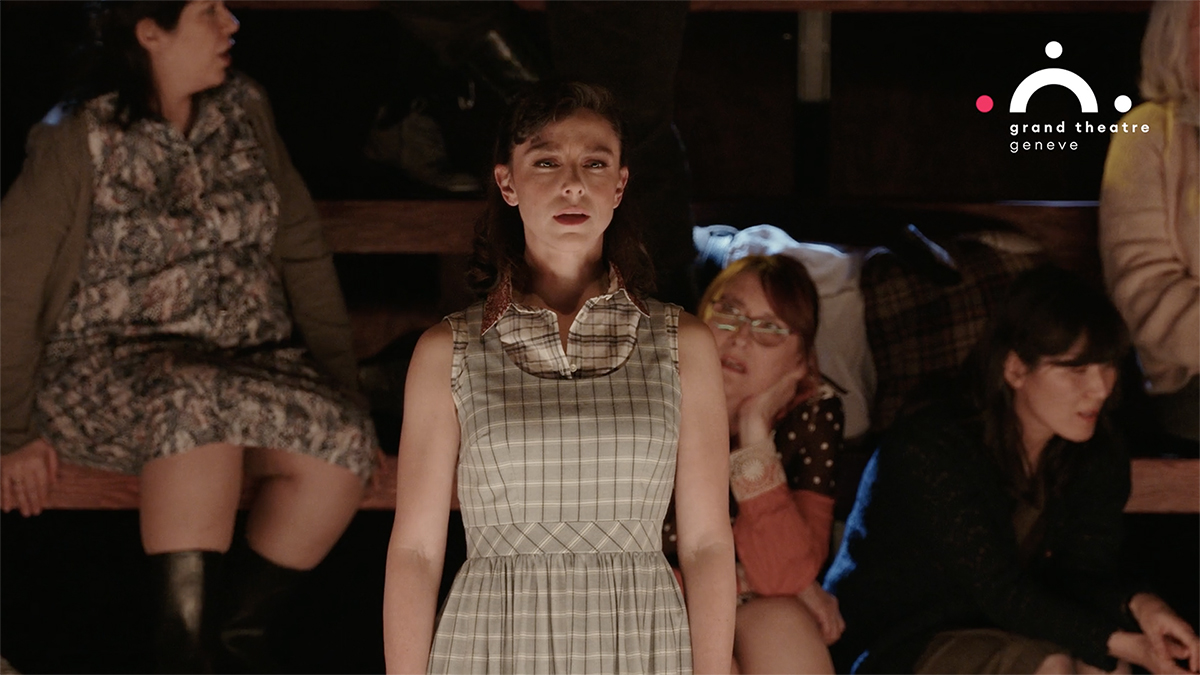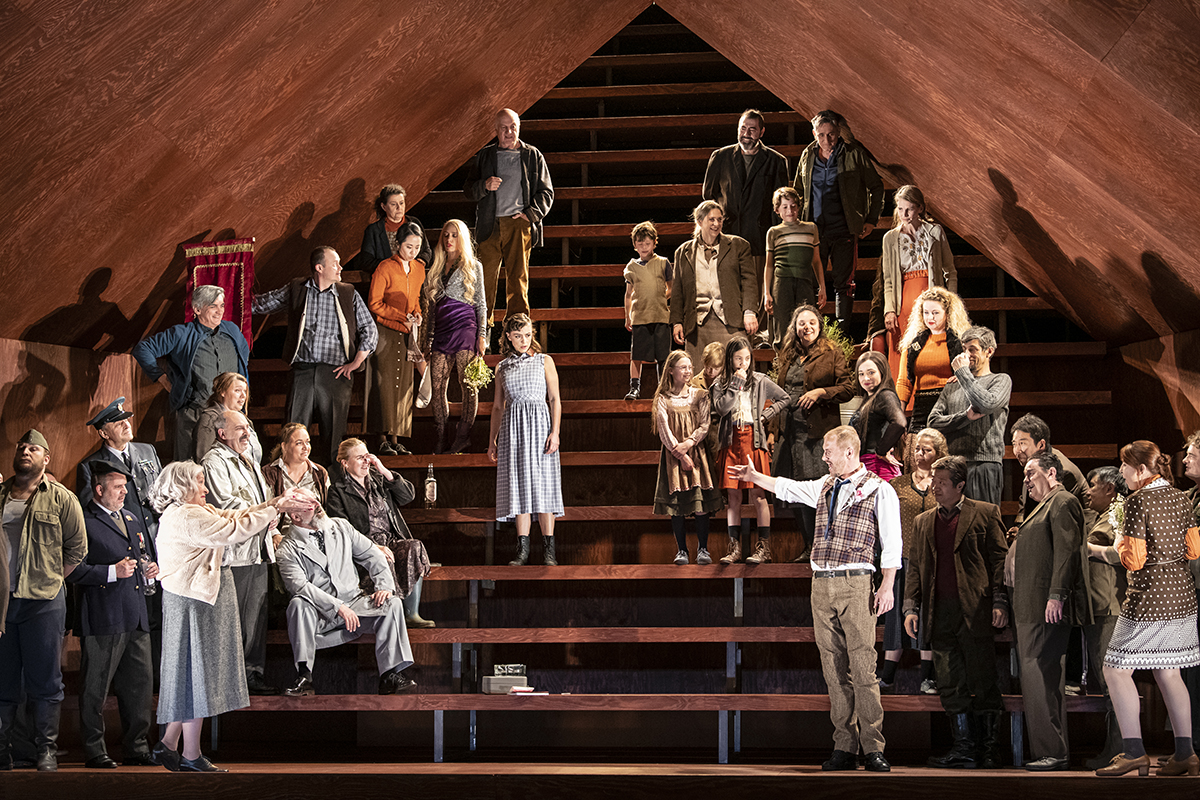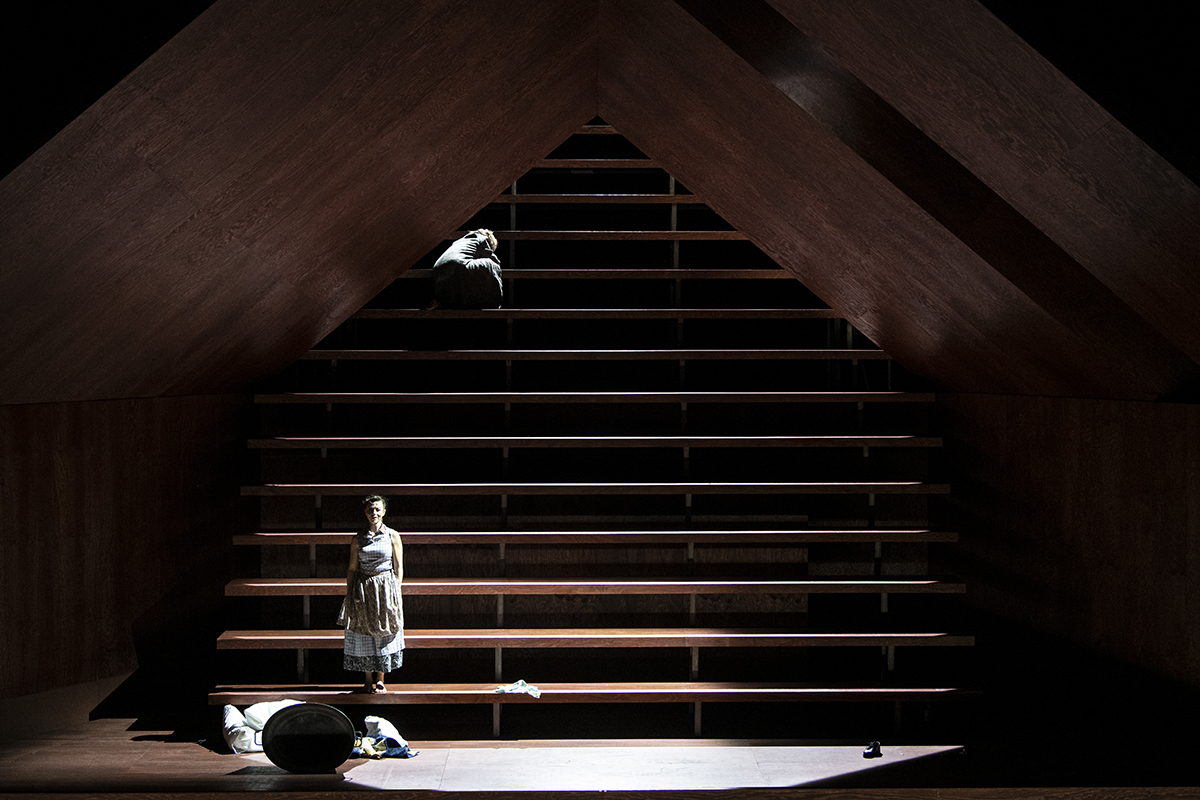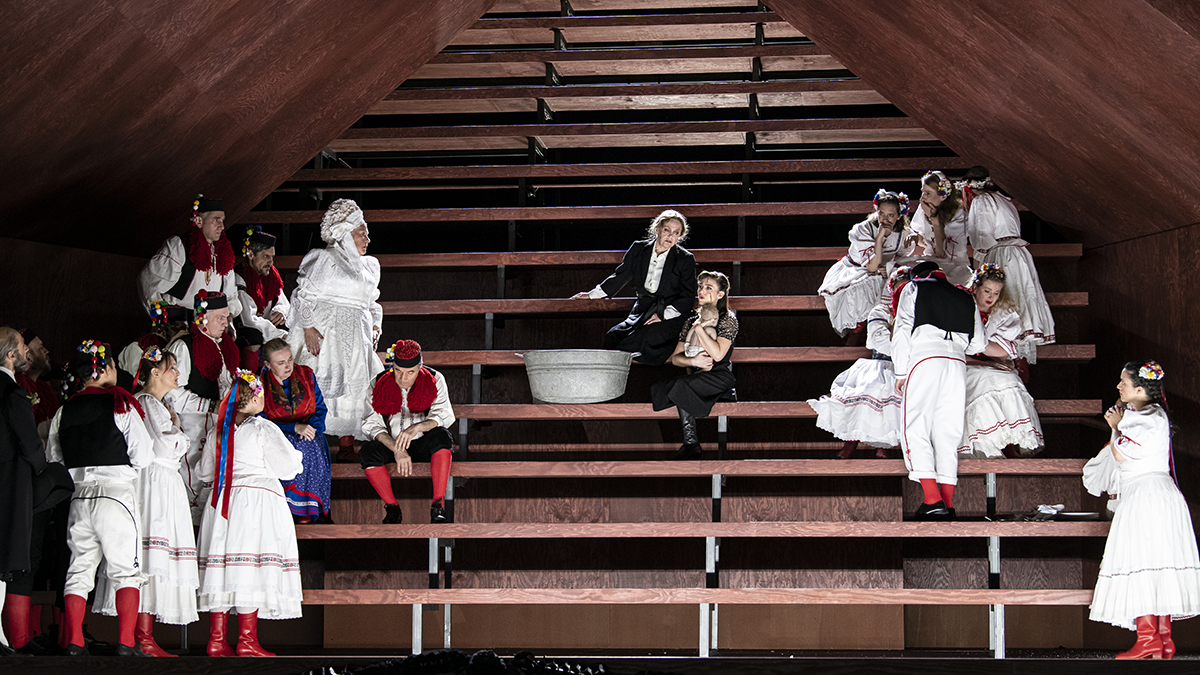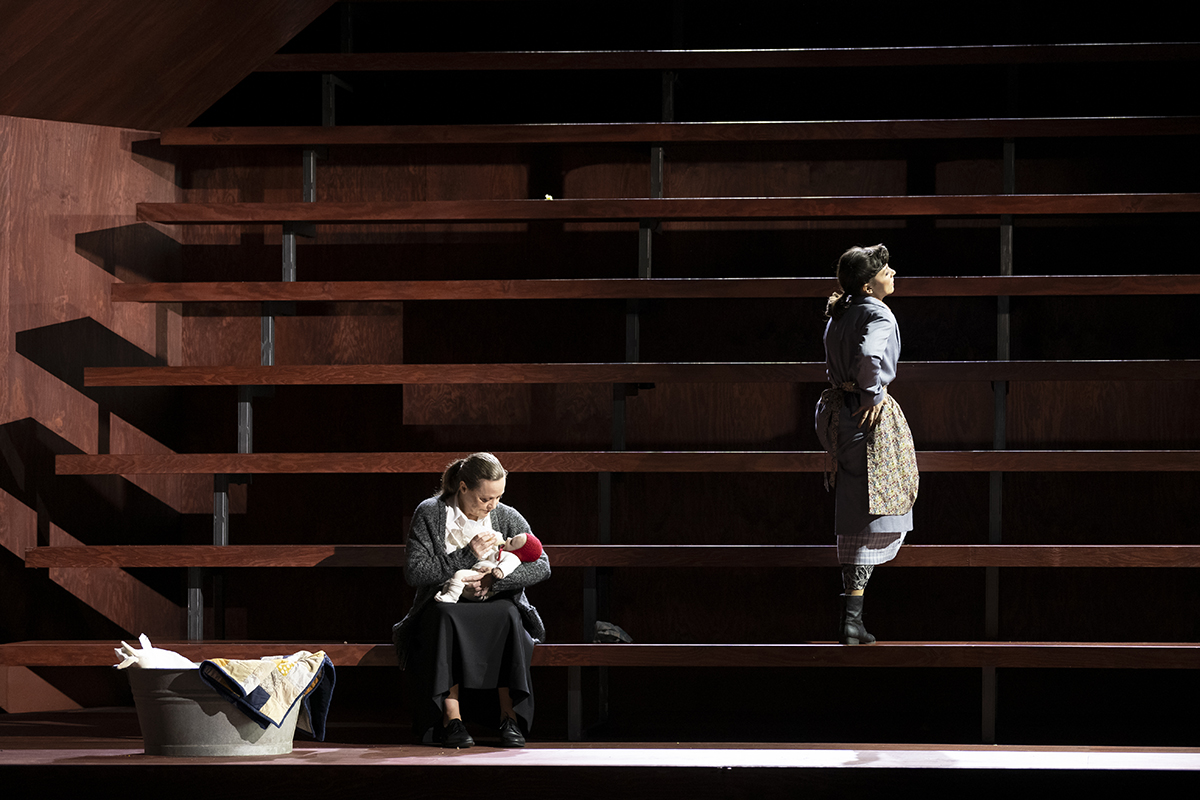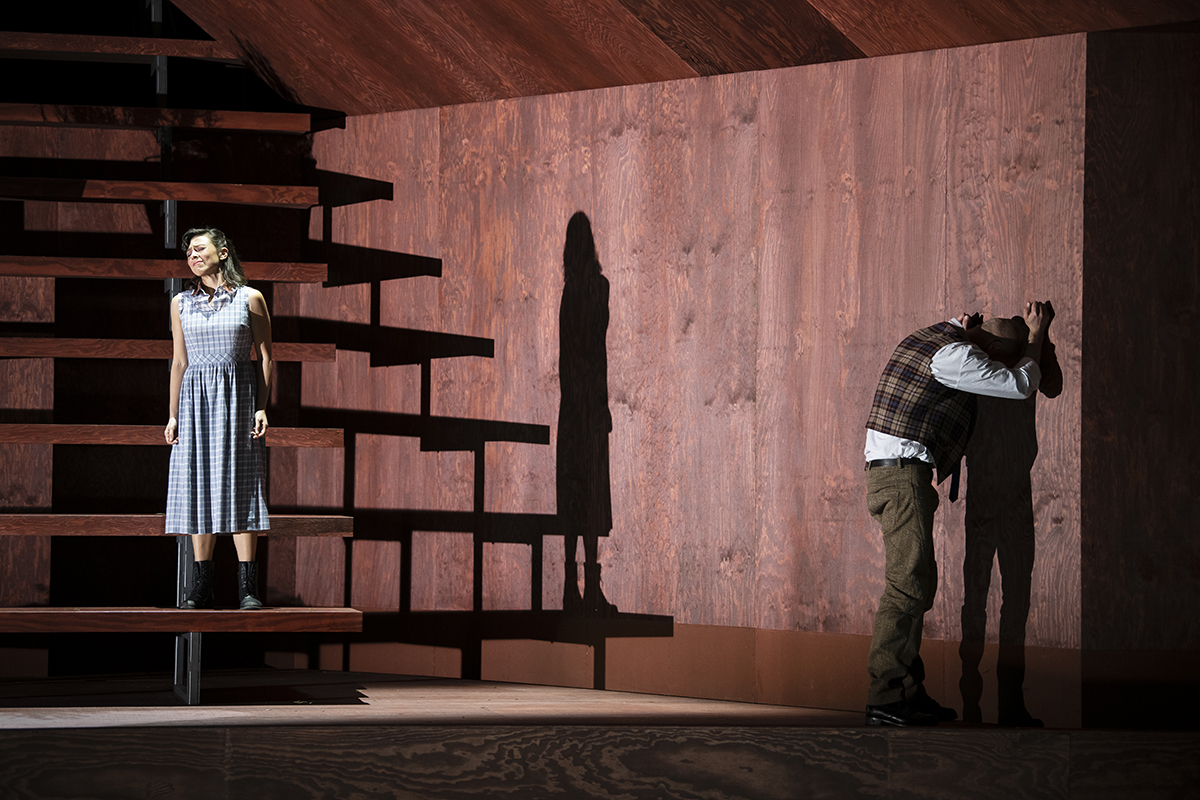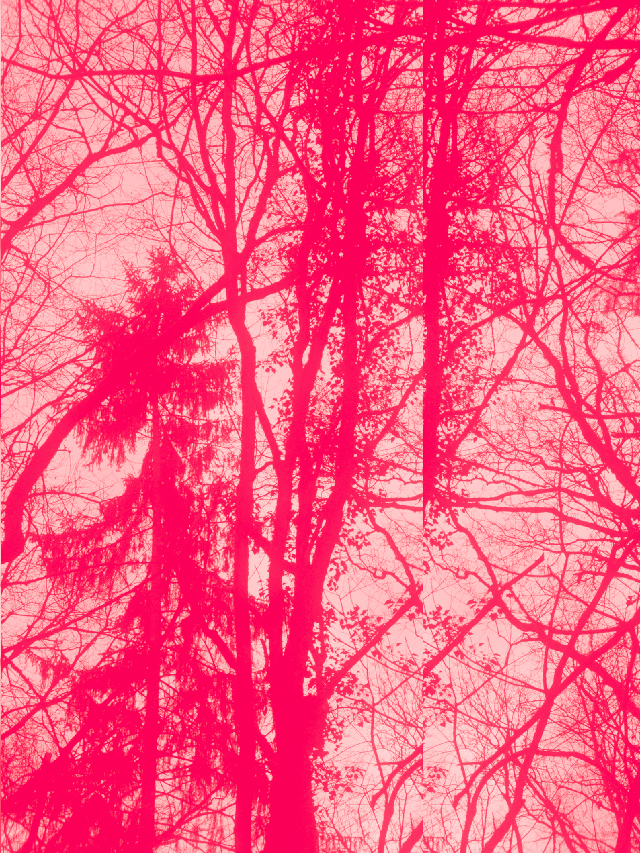 Vieille femme : Moi ? Je ne sais rien du tout. Je me suis mise la bouche en l'air et j'ai commencé à chanter. Les enfants viennent comme l'eau.
---
Opera by Leoš Janáček
Libretto by the composer after the drama Její Pastorkyňa by Gabriela Preissová
First performed in Brno in 1904
Coproduction with the Deutsche Oper am Rhein
Last performed at the Grand Théâtre de Genève in 2001
3, 5, 7, 9, 11, 13 May 2022 – 20h
CAST
Musical Director Tomáš Hanus
Stage Director Tatjana Gürbaca
Scenography Henrik Ahr
Costumes Designer Silke Willrett
Costumes Artistic Collaborator Carl-Christian Andresen
Lighting Designer Stefan Bolliger
Dramaturgy Bettina Auer
Choir director Alan Woodbridge
Jenůfa Corinne Winters
Laca Klemeň Daniel Brenna
Števa Buryja Ladislav Elgr
Kostelnička Buryjovka Evelyn Herlitzius
Grand-mère Buryjovka Carole Wilson
Stárek Michael Kraus
Maire Michael Mofidian
Jano Borbála Szuromi / Clara Guillon
Karolka Eugénie Joneau / Séraphine Cotrez
Grand Théâtre de Genève Chorus
Orchestre de la Suisse Romande
After The Makropoulos Affair last season, a Grand Theatre premiere of this little-known work, we continue our incursion into Leoš Janáček's operatic music with his best-known work, Jenůfa, an opera composed when Janáček was past 50 and which made him famous all over the world. The Czech composer was even performed in New York in 1924, twenty years after the work's premiere in Brno, proving that despite the post-Wagnerian glut of the beginning of the century, Janáček's dream of musical realism was truly of an international nature and not simply the provincial art of a committed nationalist and folklorist. Realism is undoubtedly present in the opera's subject matter: Leoš Janáček refuses to go into the world of historical or mythological sagas. Instead, he chooses as a basis for his libretto a novel by his compatriot and contemporary Gabriela Preissova, placing a conflict between moral and customary values at the centre of his opera. Similar to Federico García Lorca's trilogy, Její Pastorkyňa ("Her Stepdaughter") constructs an infernal triangle between its three heroines, three women of different generations, from the oldest to the youngest, and their relationship to society, and to love. One falsehood leads to another, unspoken truths paint themselves into a corner and the drama closes in relentlessly on its characters, with forgiveness and redemption as their only possible salvation Tatjana Gürbaca, our third female director this season, and her artistic team know a thing or two about redemption in opera, having won the award for best production of the year 2013 with her staging of Parsifal at the Flanders Opera and the title of 'Director of the Year' for the director herself. Her symbolic aesthetics come into their own in Henri Ahr's minimalist sets, where they develop into a finely wrought emotional theatre of the psyche of human relationships. Czech conductor Tomáš Hanus, an expert on Leoš Janáček on all stages of the world, will lead the Orchestre de la Suisse Romande with, in the roles of Jenůfa and her mother-in-law respectively, the American soprano Corinne Winters, whose fragile physique combined with her impressive voice make her ideal for the role, and opposite her, Wagnerian heroine par excellence Evelyn Herlitzius. Musical and dramatic thrills guaranteed.
Introduction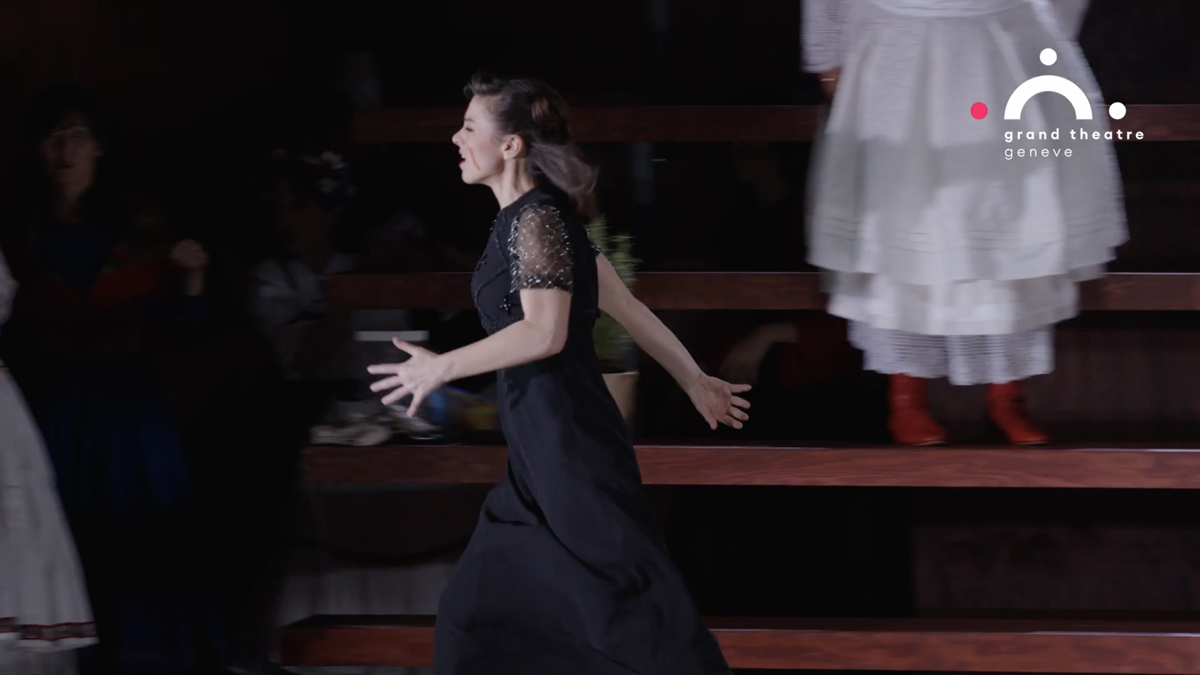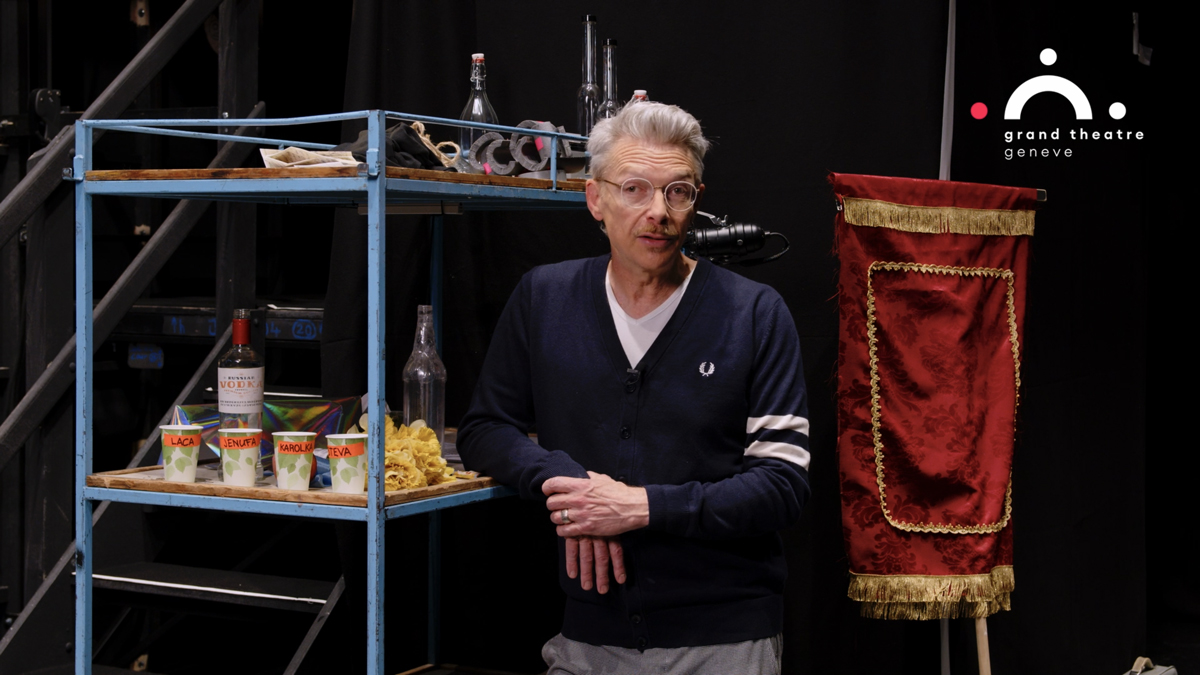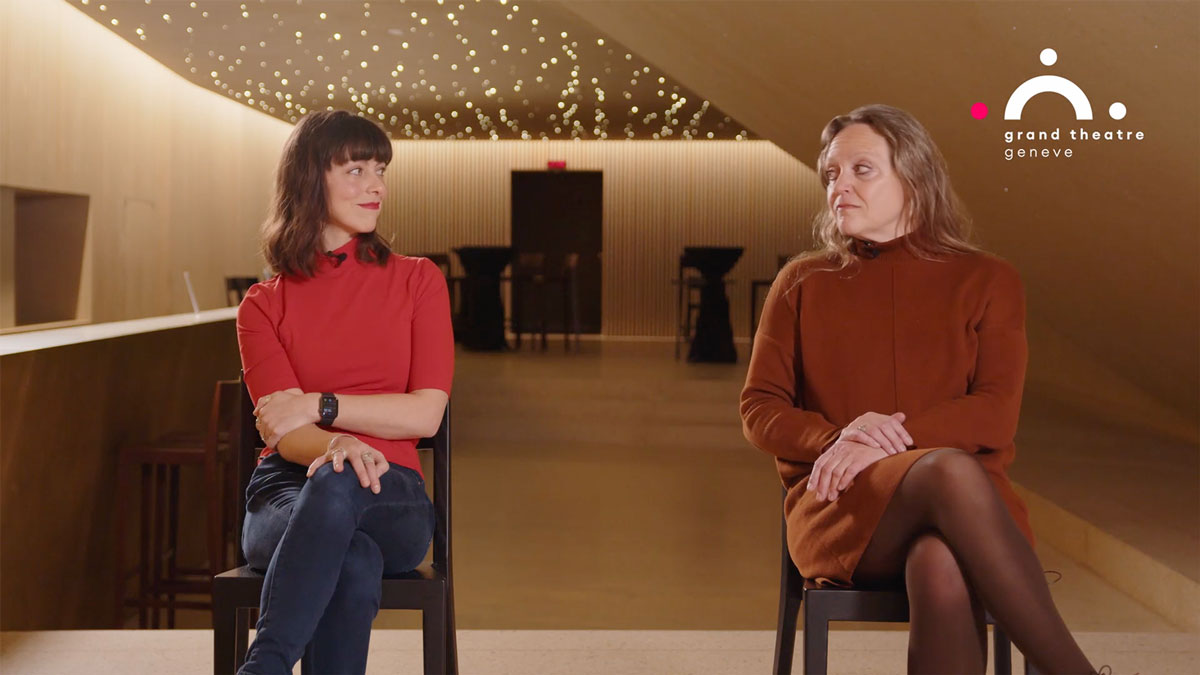 Plage
Jenůfa at La Plage
Check out all the various events connected with the production.
Intropéra
45 minutes before the performance
+
–
45 minutes before the bells call you into the house, it's time to refresh your memory and go back to the beginnings of the opera: we offer a brief introduction to remind you what the work is all about and what kind of magical, apocalyptic, critical or hyper-realistic worlds the people behind the production have in store for you. Lickety-split, there's just enough time to grab some bubbly before you take your seats under the star-studded ceiling of a thousand and one operas!

45 minutes before each performance
Free admittance with performance tickets
Foyer of the GTG
Apéropéra
Thursday, April 28 at 6:30PM
+
–
About Jenůfa

As a prelude to the production of Jenůfa, the Voce Quartet, a young ensemble in residence at the Haute école de Musique de Genève where it has taken over the string quartet class, offers us the "Intimate Letters" of the composer Leoš Janáček. This second quartet is, as the title indicates, intimately linked to his platonic love for Kamila Stösslova, with whom he exchanged more than a thousand letters during the last eleven years of his life.

Thursday, April 28 2022
At 6:30PM
Entrance fee CHF 25 (first drink included)
In the foyer of the GTG
Éclairage
Monday, May 2 at 6:30PM
+
–
Jenůfa, les pouvoirs de la belle-mère, présenté par Pierre Michot

Fille séduite et abandonnée, enfant bâtard, infanticide : voilà de quoi faire un mélo aux effets faciles. L'opéra de Janáček est tout le contraire. Nous essayerons de comprendre comment sa musique s'y prend pour approfondir les situations, creuser les caractères, toucher à la vérité des âmes. Au centre de l'histoire, une question : trop d'amour peut-il conduire au drame ?

Monday, May 2 2022
At 6:30PM
At the Théâtre de l'Espérance
> access

> MORE INFOS
En coulisse
Wednesday, May 11
+
–
Haven't you ever wondered what it's like on the other side, when the curtain falls on a performance? How does all the technical machinery work? What do the stagehands have to do to get things back into working order? Or maybe just bump into one of the stars of the show?

So let us raise the curtain on all this for you. With every production, we give our patrons an opportunity to come backstage with us, raise their eyes to the flies and take a good look at what's behind the sets. It may be dark in the wings but there's a whole lot going on there! And because it's a really busy place, we can't really do this more than once per performance run. You will need to book your visit beforehand, so don't delay!

A member of the theatre staff who can answer all your questions and show you some of the very impressive features of our opera house takes you backstage for free.

After the May 11 performance, a member of the theatre staff who can answer all your questions and show you some of the very impressive features of our opera house takes you backstage for free.

The "En coulisse" tour lasts about 20 minutes, starts 15 minutes after the performance, is free of charge on prior reservation with our box office service by email [email protected].
21-22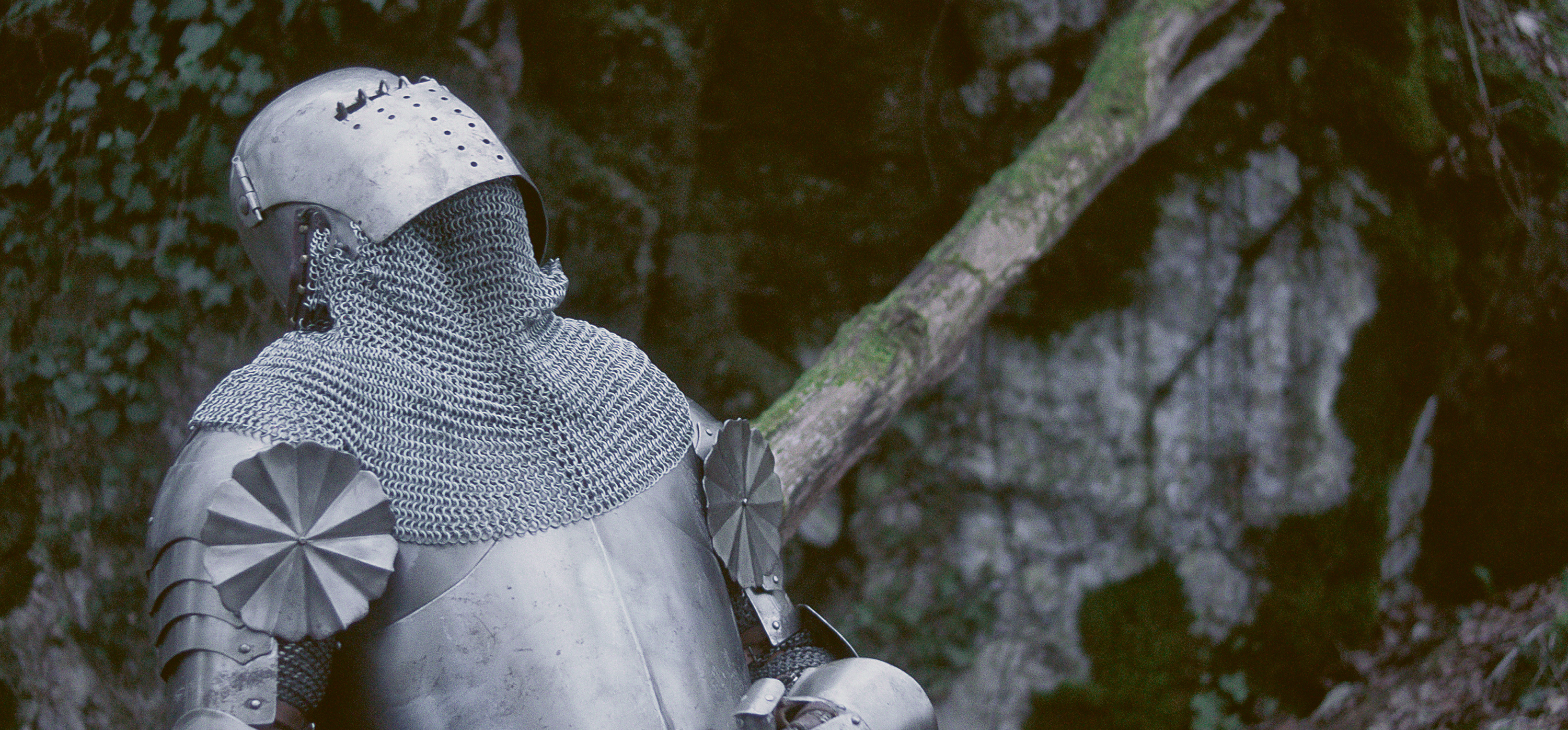 Programming
Find the complete program of the new season.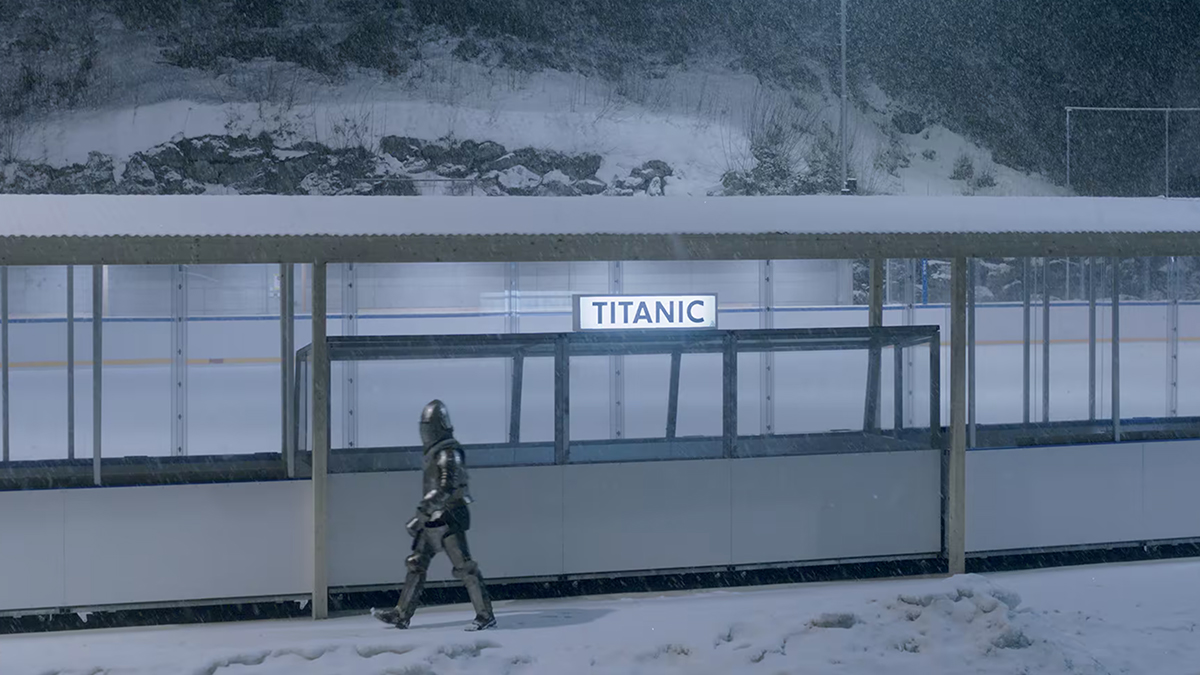 Titanic, a film by Pauline Julier
In response to the season header "Make Love, …", Pauline Julier produced Titanic, a searing vision of a sinking world where the show does go on.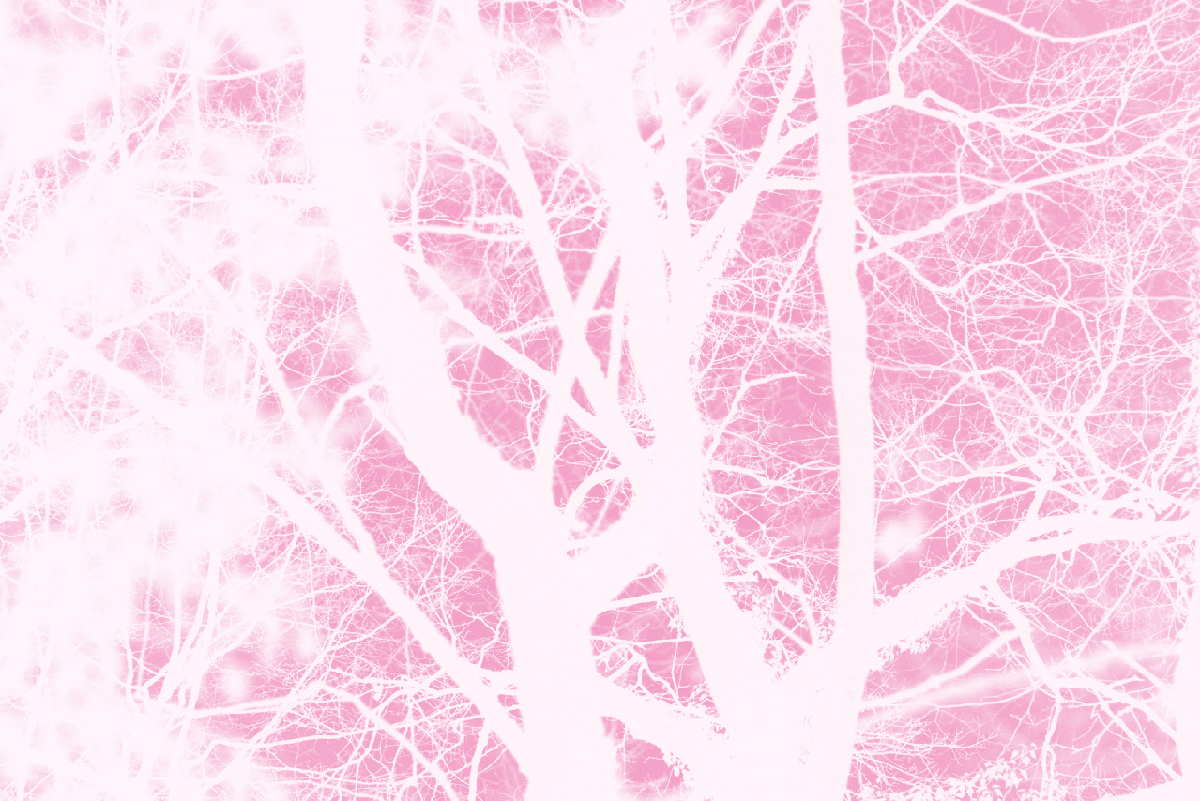 Make love…
Presentation, interview of artists, explanations… all you need to know and understand about the new GTG program.
Stay connected with the GTG